From time to time I must let go of some of my precious adults to loving and stable homes only, NOT TO BE USED FOR BREEDING.  Some of these adults are now retired, and would love nothing more than to hang out and snuggle next to a loving and caring human being.  My precious adults are very loving, healthy and special, they have given me nothing but unconditional love.
Sometimes it is easier to bring home an adult than a puppy.  They will usually housebreak at a faster pace since they are older and can hold it longer, catch on to things quicker and are more eager to please.  Please contact me for additional questions or pictures at 408-840-1842 or Doxbabies@yahoo.com.
We are in the process of downsizing and therefore, I will be posting some of our adults up for adoption to stable and loving homes only.
I will have adults 3 – 3 1/2 years of age, both Males and Females.
MALES: Blue/Tan Longhair, a Shaded Dark Red Longhair.
FEMALES: Extreme White/Blue Dapple Longhair.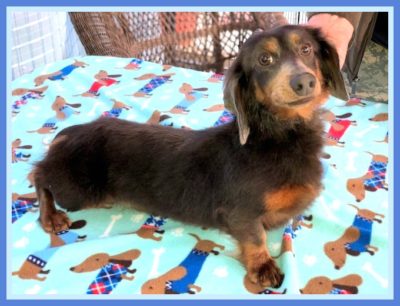 BLUZEE is a Blue/Tan Salted Male with Silver Overlay – Longhair, he is a super sweet little guy.
He is 2 1/2 years old.  Weight is 12 lbs.


MISTY is a Extreme White/Blue Female Dapple – Longhair, she is a stunning little active girl.
She is 2 years old. Weight is 13 lbs.