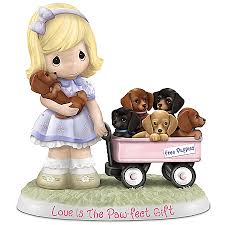 Don't forget to look at my Planned Litters Page!!

Hi everyone, welcome to my world of "Colorful" Dachshunds.
I'm sure you will find exactly what you have been looking for in a variety
of colors, patterns, and coats. A love bug, a companion, a loyal friend, someone to kiss
you good-night, and truly give you unconditional love.  All puppies come with
 American Kennel Club (AKC) Registration, Health Guarantee (1 yr), Shots/Deworm Record.
My door never closes after you purchase your baby, we stand behind our puppies, always here for support.
 You might find a puppy for less, but may not have the same Guarantees as we do. Please keep in mind that prices support everything listed above.
Prices are for LIMITED AKC Registration – FULL AKC Registration is $200.00 more for AKC Breeding rights.
A $200 deposit (Non-Refundable) will hold your puppy until he/she is ready to go at 8 – 9 weeks of age or at 10 weeks if Shipping.


If you have any questions or would like to purchase a Puppy please contact me


at  408-840-1842 (call or text) or
 doxbabies@yahoo.com



Honey and Bluzee's puppies are here – 3 Boys. All Longcoats.
Born: Mar 1, 2018 ~ Ready to go: April 26.
HUDSON ~Boy~ Black/Tan – AVAILABLE ~ price is $1000.


Puppies are here!! All Extreme White Dapples!!
Gorgeous – Attention Getter Litter.
They belong to Colorful-Dachshunds!
Born April 5, 2018
Mom is SAILOR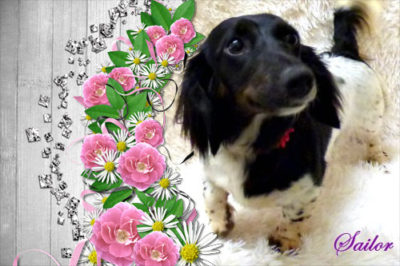 Dad is GUNNER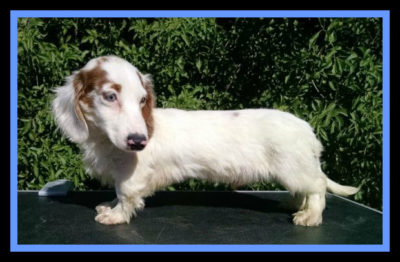 Sailor and Gunner's puppies are here – 3 Girls and 2 Boys!  All Longcoats.
Born: Apr 5, 2018 ~ Ready to go: May 31.
Boy #1 (Shelby) ~ SOLD To Emma & Riley ~ price is $1400.
Boy #2 (Sebring) ~ AVAILABLE ~ price is $1400.
Girl #1 (Sienna) ~ SOLD To Carol ~ price $1500
Girl #2 (Sadona) ~ SOLD To Tammi ~ price $1500
Girl #3 (Sierra) ~SOLD To Stephanie ~ price $1500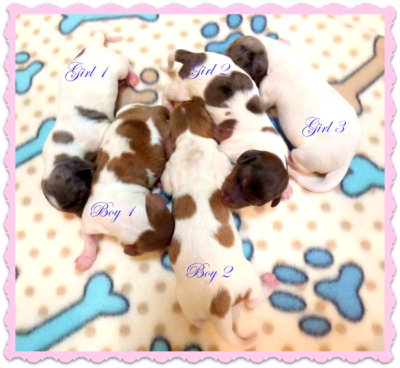 Puppies Available in Southern California – Please contact JEANIE @ 619-933-5691 or at
Blackforest1979@gmail.com.
This is RUBY, a gorgeous Red Smooth-Coat Female.  She is very small and petite, and is just a sweetheart!
RUBY is 3 months old, born Jan 22, 2018.  She currently weighs 5 lbs, her estimated adult weight should be 10 lbs.
AKC Registered, shots/dewormings, Vet checked.
Ready to go now!  Price is $1100.00.

JEANIE also has other Smooth-Coat puppies available at this time.
3 Red girls – Smooth & 1 Solid Black boy – Smooth.
5 Black/Tans & 2 Reds (6 Smooths & 1 Longhair).
Please contact Jeanie if interested in more information or pictures at 619-933-5691.




******************************************************************* ****************************************************************** 

Our puppies appear larger than what they really are due to close-up photos
so that you can see the quality of our puppies! 

For more information about our Doxies please see the About Dachshunds, Coats & Colors and What your puppy comes with pages.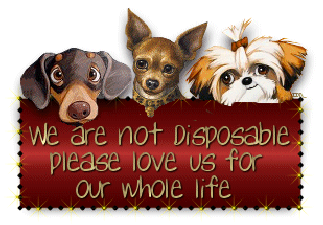 If I could speak…I'd tell you I love you.
I will always be loyal, I would comfort you and make you smile.
I would only ask you to love me.
 "He is your friend, your partner, your defender, your dog. You are his life, his love, his leader. He will be yours, faithful and true, to the last beat of his heart. You owe it to him to be worthy of such devotion." Please visit our HAPPY OWNERS page to see what our puppy parents are saying and pictures of their beautiful babies.